click on a link to go there
you are here
---
Contents of page:
ABOUT FRACTALSTUDIOS (what FractalStudios does )
__________________________________________________________________________________________

Welcome to the about FractalStudios page

Fractal studios mission is for the advancement of Art, audio visual art, and music, as well as musicians, and Circuit Bending in the northern Ohio area, as well as abroad. Fractal Studios is a Cleveland based studio where the bands on this site, as well as my self, write and record music. FractalStudios also in the business of making and selling and Mastering music CDs and DVDs. Fractalstudios also makes exclusive Sound Samples for Reason, Fruity Loops, and Acid, as well as any wave or rex sampling programs. We will also have links for the sales of Fractal Studios Circuit Bent items and their samples of these circuit bent items on our store page. These sounds have been exclusively designed by Steve at FractalStudios. Some of the free samples will be found on our circuit bent page. For more info or any questions about any of the music, it's sale, or if you would like to use any of FractalStudios music / Multimedia productions don't hesitate to contact us at: fractal@fractalstudios.net or leave a message on one of our My Space pages. Samples of any of FractalStudios music can be found on Fractal Studios my space page, or our Circuit bent page, and for samples of the bands, more links can be found on each individual bands page.

Fractal Studios also makes Circuit Bent items as well as sell various items on eBay. Links for more info on Circuit Bending or Fractal Studios Circuit Bent items go to FractalStudios Circuit bending page link on the tool bar at the top of the page. For any info about purchasing my Circuit Bent items as well as the various other items that are sold on eBay, go here to go to my about me eBay page. Fractal Studios sells many other items on eBay witch range from music items and memorabilia, to studio items, toys and other items I no longer need or have the use for, witch take up too much room in my house. Check the items out for your self FractalStudios has been selling items on eBay Since 2004. Thanks for visiting our site.

Welcome to FractalStudios; Iím Steve, also known as Fractal in some of the music I perform and record. I have been a percussionist for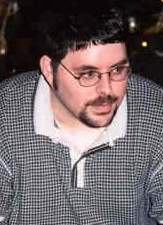 over 12 years. I first started playing a old drum set I got as a gift when I was in the seventh grade. I used this set in my first band that was started with my friends back then, and since then I have been playing and studding percussion at tri-c and with various other teachers. I have been interested in recording ever since I can remember; from my days as a little kid running around with cassette tape recorder recording everything from cars passing by, to noises my brother and sister made. In the past couple of years I have also been studying keyboards and guitars (more keyboards than guitars), and I am currently working towards a degree as a recording engineer at Tri-c (Cuyahoga community college). At Tri-c I also played with the Caribbean / jazz ensemble for a couple of semesters. With the Jazz ensemble I also marched and played hand drums at Parade the Circle in Cleveland's University Circle (Hosted by The Cleveland museum of art). A hobby of mine is Circuit bending. I circuit bend toys and keyboards to sample their noises, for designing audio samples for sound programs, soundscapes, music, and other items my sounds have been used for. I will have links to downloadable sound samples as up soon on my circutbent page. These samples are for use with samplers; like Reason's nn19, NNXT as well as Fruity Loops, Acid and many other samplers. There is more information about my circuit bent items on the circuit bent page, (a link is found at the bar at the top of this page). There will also be a link to my about me eBay page for information on the purchases of the circuit bent items I make. I also sell various studio items, and music equipment on eBay, as well as things that I no longer need or use that takes up too much room at my house. I have been selling various items since 2004. For more info about me, please visit my ďabout meĒ eBay page or my My Space music page ; let me know what you think of FractalStudios site as well as our music we make at FractalStudios at http://www.myspace.com/fractalstudiosmusic . Thanks for visiting FractalStudios visit us again! We are always updating and adding new things to our site.
*Note for any info on any eBay sales or questions about Fractal Studios circuit bent sales please contact Fractal studios Sales questions threw: my eBay page For inquires on sales of CDs and DVDs Go here.

*Note for any info or questions on any eBay sales go here. All other questions about what we sell on this site, such as CDs, or our multimedia Productions, or for the purchase of my circuit bent items, or any thing regarding sales please contact Fractal Studios sales at questions@fractalstudios.net . *Note If you are having problems with any eBay sales please contact me threw my eBay page . Only Fractal Studios sales should be directed to questions@fractalstudios.net For any other questions about the site, our music or, questions about circuit bending contact Fractal at factal@fractalstudios.net *Note any frivolous eBay questions sent to these emails will be automatically erased!
This site uses Pay Pal so all of the sales are 100% secure, for more info on Papal please click on the Papal logo below. We accept all major credit cards Visa, MasterCard, Amex, Discover, as well as E-check. We also accept Money orders, cashiers checks, travelersí checks, NO PERSONAL CHECKS ACCEPTED! When using a money order, travelers checks, or a cashiers check include a list of the items you wish to purchase along with your payment.
All Fractal Studios sound sample CDs and DVDs have a ten day replacement guarantee *. anything else are not subject to a return, unless stated otherwise. Email us at with any problems you are having with any of the CDs or DVDs we make at: questions@fractalstudios.net . When asking for a replacement, or if youíre having any problems please Email us with the date you have purchased the item your name and the name of items, and a detailed description of your problem with the items. **All returns are subject to review by me the owner of Fractal Studios. All shipments will be sent by US Mail unless otherwise requested. When requesting a different shipping method a larger fee may be added to total of purchase.
Once again for any questions about sales of CDs or DVDs, or items we sell on eBay, or for issuing a replacement for CDs or DVDs email at: questions@fractalstudios.net . For the use of any of any of the bands music please contact us at fractal@fractalstudios.net . To go to Fractal Studios store to purchase any of our CDs or DVDs go here
*If the item is damaged during shipping Fractal Studios is not held responsible. The time of guarantee starts upon the shipment of the item. Damaged CDís and DVDís cases and boxes are not subject of the guarantee. Please email us with the any of the problems of the items purchased, and we will contact you as soon as possible with a request or denial of replacement of your products. Any frivolous returns and damage of the items by the purchaser or other persons other than Fractal Studios will be automatically denied.
** All reviews are subject to approval or denial of replacement of the CDs or DVDs. Each replacement email will be reviewed by Fractal Studios staff, the members of the bands, and the owner me.